Your skateboard needs a completely new makeover when you switch to freeriding in the streets from power sliding around the skate park. That said, you need good quality wheels for a safe and fun cruising experience.
Skateboarding, although an inexpensive sport, really triggers our stress levels when it comes to choosing the best skateboard wheels for cruising. Since tricks make up the better part of skateboarding, you need the perfect set of wheels to get started.
The question isn't what type of wheel your skateboard needs because, with the right spacers and bearings, your skateboard can accommodate all sorts of wheels. Rather the question is what you're going to do with your skateboard and what type of wheels are appropriate for that.
If you're at sixes and sevens choosing a set of wheels to head out with your skateboard, you have indeed come to the right place! In this write-up, we have 10 of the top-explained skateboard and longboard wheels in store for you.
Our Top 10 Best Cruising Skateboard Wheels
---
Settling on a set of skateboard wheels is definitely not as easy as it seems. For your convenience, we have explained 10 top skateboard wheels for cruising. Give it a read!
01. Orangatang 4 President 70mm Cruising Skateboard Wheels
---
This set of 4 wheels is the best skateboard wheels for cruising. Their high-traction formula ensures an excellent riding experience for general commuting to downhill cruising!
The hardness of rubber and rubber-like materials is measured by a "Durometer," and this is an important thing to notice because your cruising quality depends a great deal on it.
The wheels have an 86A rating
Luckily for these Orangatang skateboard wheels, the 86A rating will give you just the perfect amount of softness you need. They provide a good grip on all surfaces, so it's very safe to try out a few skateboard tricks here and there
Common problem skaters face while they're cruising along a terrain is wheel damage.
But these wheels have a grippy yet plush urethane that will help you slide smoothly with maximum safety. The core supports its lips for excellent traction.
Comfortable Race Wheels
Moreover, they are very durable. Be it hard carving or pumping, the wheels will make sure that you have a wonderful experience while taking your skateboard for a spin.
Not to mention, if you are a beginner in the skateboarding arena, this set of wheels will be comfortable for long hours of practicing and cruising with your buddies.
Pros
Great 70mm urethane wheels
Ensures a smooth ride
A supportive core increases durability
High-traction performance
Cons
Not the perfect wheels for tricks
02. Cloud Ride Longboard Wheel Set
---
If you're looking for heavy-duty longboard wheels with a large diameter for day-to-day cruising, this is the one!
The thing with large longboard wheels is that they'll pick up speed slower than hard wheels, but looking on the bright side, they have a far better top speed that is not only difficult to topple but impossible to attain with small wheels!
Debris and cracks
Its 69mm diameter works exceptionally well when it comes to rolling over debris and cracks.
Also, it means when you attach these best skateboard wheels for cruising to the deck, you have a better chance at a comfortable cruise around the neighborhood than anybody else.
Soft Longboard Wheels
If your board doesn't have large cutouts, you will need a riser pad of about ¼ inch to install the wheels. But once you do, they will stick around for a long time.
Looking at the 78A urethane wheels, you already know how soft they are going to be. Needless to say, it is the right amount of hardness to suit all types of riding.
They are also very lightweight. A set of four roughly weighs 1.45 lbs. So, you get lightweight and durable wheels that come in clear blue color. What more can you ask for?
Great Cruising Experience
Moving on to the tricks you will be able to pull off with this set of longboard wheels, we are going to say that there aren't many. These wheels are perfect for freeriding and cruising.
They might not be the ideal set of wheels you'll want to install before hitting the skatepark, but when you think about extreme downhill skateboarding, these wheels are like no other!
Pros
Suitable for downhill skateboarding
Got amazing looks
Lightweight wheels
Leaves good thane lines on all types of ground
Cons
03. Shark Wheel California Roll Skateboard Wheels
---
If you're not in the mood for thinking about what riser pads you need to fit chunky longboard wheels, check this one out!
Small diameter for more versatile
A small diameter on the best skateboard wheels for cruising makes your skateboard more versatile for not only nailing tricks at the skatepark but also heading out for a challenging freeride.
Keeping that in mind, settling for these sleek, 60mm Shark Wheels will give you the perfect bang for the buck!
An extraordinary performance
Moreover, these wheels give no less of an extraordinary performance when it comes down to all-terrain cruising. Having a hard time putting your trust in these amazing wheels?
Then you'll be happy to know that they were seen on FedEx commercials and all the way to the mighty Discovery Channel. A durometer of 78A means that the wheels fall on the softer side.
It's a plus point when the nature of your commute will have you stop frequently. Soft wheels slow the skateboard down much faster.
Good Urethane Formula
Not only that, but it will also be easy for you to control soft longboard wheels at fast speeds. Their grip on the tracks is also worthy of praise. The urethane formula protects them on uneven terrains like sand, gravel, and even thin grass!
Last but not the least, you have no reason to think that just because the wheels are grippy, they won't be comfortable for rolling and sliding. Rather they are highly versatile wheels that put your mind at ease while giving you a smooth ride.
Pros
Ideal for uneven terrains
Unique look
Delivers a smooth sliding experience
High-quality core
Cons
04. Everland 65x51mm Skateboard Wheels
---
This set of 4 soft skateboard wheels will give you a fun ride around the town. Since they are the best-suited skateboard wheels for rolling on rough pavements, these wheels are excellent on the streets!
A great option for pulling tricks on the street
If you're having trouble pulling some tricks with your skateboard on the street, Everland's wheels will be a great option. They fit on any deck easily and roll smoothly. Keeping your skateboard steady on rough surfaces is a problem you can brush off.
Furthermore, this is a set of wheels that do well with both a longboard and a regular skateboard. The 78A wheels are all set to rock carving, sliding, and cruising!
Ideal for Downhill Riding
They will give you the boost you need for being the winner in downhill racing. Everland's grippy wheels do not let you lose momentum when you are passing a corner. So, you can ride in peace besides trying out a couple of tricks.
Fun-Filled Freeriding
While power slides and flip tricks are perfectly saved for hard wheels, this set of soft wheels will give you a fun-filled free-riding experience.
Hard wheels struggle a bit on the streets where there is a lot of debris and bumps. Luckily for these best skateboard wheels for cruising, you will face no such problems.
Very much durable
They also leave good enough thane lines on the tracks. That's not all; the wheels are also very much durable, and they can withstand day-to-day bumps and cracks on the road.
Pros
Large, durable wheels
Ideal for longboarding
Perfect for downhill racing
Can handle rocky terrains
Cons
Might be too large for some skateboards
05. FREEDARE 58mm Skateboard Wheels
---
Being the very best for cruiser skateboards and longboards, these wheels are not only easy to install but also comfortable for a long ride on bumpy roads!
Diameter and hardness
The mistake we make while choosing skateboard wheels is that we don't pay attention to their diameter and hardness, which is why rolling them on a certain kind of terrain affects your cruising experience a great deal.
So, if you're looking for a good set of skateboard wheels that can tackle all sorts of gravelly or pebbly grounds, this is the one. The 58mm wheels are an excellent option for cruising with your buddies.
Great Balance and Stability
You won't have to think about the jolting or losing control of your skateboard on rugged pavements when you're rolling on these wheels. They are soft and durable enough to keep your feet on the board.
The wheels come assembled with spacers and bearings, so they're ready to be used straight away out of the box. They might be a bit too wide for landing tricks or small skateboards, but they're made for cruising, and you will get the best of that!
Pros
Easy to install as other best skateboard wheels for cruising
Comes with spacers and bearings
Ideal for riding on rugged ground
Rolls smoothly on skateparks
Cons
06. Sector 9 Butterball Skateboard Wheels
---
Rock the slides and ollies while learning about other skateboarding tricks with these Butterball wheels!
Hard wheels come in handy when you have a big skate park nearby and a bunch of tricks to show off! If you're still learning the skateboarding know-how, these wheels will give you the kickstart you need.
Spins and tricks
They are the best versatile skateboard wheels for cruising that you can take out for spins and tricks at the skate park and freeriding around your neighborhood.
These cruiser wheels have a durometer of 80A, which gives them the perfect amount of hardness you need for skateboarding along gravelly streets and pavements.
They are also very steady. Although they do accelerate a bit slower, the excellent top speed makes up for it. If you want to know about the riding experience, the name Butterball truly speaks for itself.
Additional Features
These wheels will give you the comfiest freeriding ever and coming at a good price, there's hardly any room left for complaints.
The urethane is specially made for allowing the smoothest slides. Their center-set core ensures great balance and durability.
Pros
Good for drifting and sliding
Excellent urethane formula
Hard to medium soft wheels
Center-set core for better balance
Cons
Narrow contact patch
Average grip performance
07. Spitfire Bighead Skateboard Wheels
---
This is another one best skateboard wheels for cruising on our list. Go off the curbs and drop softly on the skate park with a set of 4 Spitfire wheels.
A smooth-riding experience
Nobody ever went wrong with Spitfire when a smooth-riding experience is in question! You get to choose from two options. The skateboard tool and bearings will be a great addition for riding right away.
Moreover, the wheels have a cool artsy print that goes well with their Spitfire name.
Also, street skating is now easier than ever with this set of 4 best hard skateboard wheels for cruising, thanks to their big range of wheel diameter options that start from 48mm and go all the way up to 63mm.
Wheel diameters that fall in this specific range make your skateboard a smooth cruiser.
All-Terrain Performance
The wheels also grip nicely on smoother terrains. So, when you're doing wall or sideways skating, they will deliver a good performance compared to other skateboard wheels.
This is not a set of wheels that you take lightly. They are solely made for regular, aggressive skateboarding. Moreover, they are a bit softer than street wheels since street wheels have a diameter of 50mm to 60mm.
Comfortable Cruising
Anything greater than 60mm wheels is good for cruising. That said, the Spitfire wheels are simply magnificent on bumpy grounds, rugged streets, and sideways.
They have the diameter of cruise wheels and the 99A hardness of street wheels. This speed and grip combination adds versatility to your skateboarding, making them a classic choice of skateboard wheels!
Pros
Great cruising wheels
Suitable for doing walls
Lands softly after a trick
Made of durable materials
Cons
Slightly wider than regular street wheels
08. Orangatang Fat-Free 65 mm Freeride Skateboard Wheels
---
What better way than to freeride on these top-notch wheels? Now available in 4 different hardnesses to fit your skating needs! The reason why they named it Fat-Free wheels is that they are not only small but also lightweight.
You will fall in love
So, if you have a small longboard such as a mini or a double kick skateboard, you will fall in love with these best skateboard wheels for cruising!
This particular longboard wheels' set is our favorite for many reasons. One of which is their high-quality urethane formula. It gives the wheels an extra smoothness while making them grippy at the same time.
Great Freeriding
80A is the perfect hardness for freeriding, these wheels don't disappoint when it comes to sliding, hill bombing, or downhill skateboarding. The supportive core of the wheels never throws you out of balance unless you mess up big time.
Wheel Diameter
Moving on to the wheel diameter, 65mm makes it very easy to pick up speed faster than wider wheels. Their 37mm contact patch is narrow enough for technical street skateboarding.
That is why street skaters always prefer wheels with narrow contact patches. Skating at faster speeds while keeping a good grip won't be a problem.
Thanks to Orangatang
Thanks to its strong core, great urethane, and overall build, Orangatang is a brand that has earned free riders' trust with its insane skateboarding items.
Pros
Lightweight wheels
37mm narrow contact patch is suitable for street skating
Fits mini longboards and double kick skateboards
Quick acceleration and agile performance
Cons
09. Blank Pro 52mm Skateboard Wheels
---
This set of 4 skateboard wheels comes with 8 ABEC 7 Speedy color bearings and 4 bearing spacers to complete your skateboard kit!
Starting with the wheel diameter, their 52mm wheels are not the ones you take for day-to-day commuting. Rather you take them to the skatepark and have a crazy showdown of skateboarding tricks.
A great speed within a minimum amount of time!
Not only would they roll smoothly but also gather a great speed within a minimum amount of time! These wheels are perfect for doing ollies, power slides, and flip tricks.
If you're relatively new at skateboarding, the best skateboard wheels for cruising will be your close friend because oftentimes, when we fail to do a trick, the wheels are more responsible than we think.
Wheel Hardness
With 99A hardness, the wheels are incredibly fast. Not to mention, they are quite durable as well. Since they come with spacers and bearings of superb quality for that matter, fitting the wheels on your skateboard the way you like is a piece of cake!
Narrow Contact Patch
They also have a narrow contact patch of 31mm. The narrower the contact area with the ground, the speedier your skateboard will take you places.
So, there is no doubt that the wheels can change your skateboarding game dramatically.
Pros
Perfect for skateboarding tricks
Ensures a speedy riding
Spacers and bearings are of excellent quality
Fits on every deck
Cons
Not suitable for uneven terrains
10. Powell Peralta Rat Bones Reissue Skateboard Wheels
---
It's time we talked about the best skateboard wheels for street cruising! They have an excellent feel to them and become quite versatile as you keep cruising the streets on them.
First up, we have the wheel diameter.
A 60mm diameter on the wheels makes them ideal for street skating. A bit of gravel and bumps here and there will be safely rolled over without making you lose momentum.
They have a speedy profile that lets you zoom through the streets with your mates and roll around the skatepark landing tricks.
Fast Acceleration
The 44mm width on the contact patch is necessary for fast acceleration. Landing tricks and sliding like a pro also call for a narrow riding surface. You get exactly that alongside a smooth ride with these 85A Powell Peralta skateboard wheels.
Pros
Glides smoothly
Ideal for all skateboards
Comfortable cruising
Good speed and grip
Cons
Doesn't handle rugged pavements well like other best skateboard wheels for cruising.
Factors to Consider When Purchasing the Best Skateboard Wheels for Cruising.
---
When you think about getting a set of skateboard wheels, you need to consider the key aspects that make them the very perfect for cruising. We are highlighting some of them so that you can make a worthy purchase!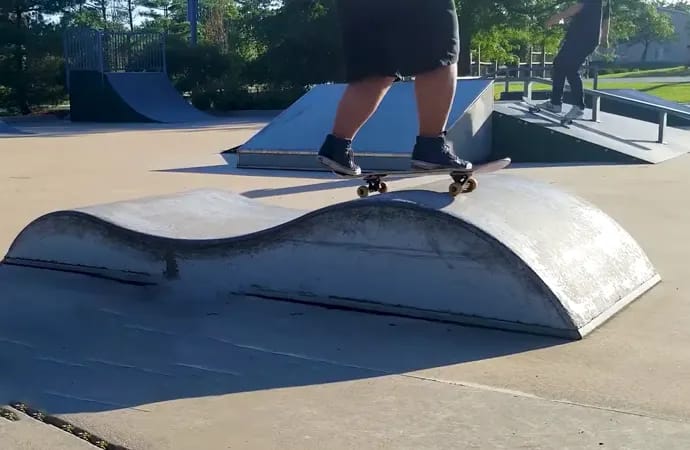 Wheel Diameter
A diameter of 50mm to 60mm would mean that the wheels are suited for skatepark fun. A ride around the streets is also fine.
On the other hand, 54mm to 65mm wheels are called soft skateboard wheels. They are the perfect skateboard wheels for cruising.
Wheels having a 60mm to 75mm diameter are usually longboard wheels. They roll perfectly on rough and rocky terrains. Downhill racing feels perfect on large wheels.
Wheel Hardness
The durometer is the unit of wheel hardness. Wheels with a durometer of 78A to 90A are the soft ones. Soft wheels grip nicely on the ground for doing corners and keeping steady.
90A to 98A fall in the middle range; that said, they are perfect on not only skateparks but also the streets for freeriding.
Wheels with more than 99A hardness are solely made for doing tricks at the park or dashing through the streets. They roll fast, slide easily, and they're perfectly fitted for technical tricks.
Contact Patch
The contact patch is the area of the wheels that come in contact with the ground. A narrow contact patch helps the wheels speed up faster around a skate park while a wide one helps them stay steady on a mad downhill.
Street skaters benefit a lot from a narrow contact patch. Wide wheels work perfectly on skating bowls and commutes.
Comfort and Versatility
The wheels' profile has a lot to do with making you're cruising a comfortable one. Pay attention to the grip, weight, edge, and urethane quality. Wheels with a rounded edge slide smoothly.
On the other hand, wheels with sharp edges grip the ground firmly on all terrains, in the rain, and they also slip less.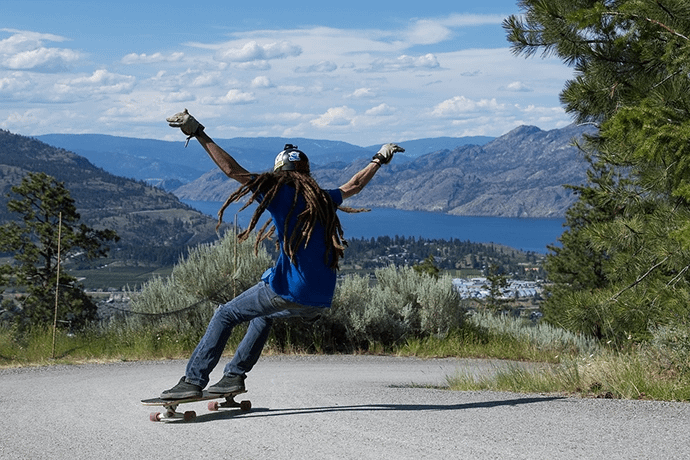 What Hardness Should a Cruising Wheel Be?
78a is generally considered the best hardness for cruising, but it depends on personal preference. The harder the wheel, the faster it will roll, but it's also more likely to be damaged if you hit something. If you're looking for an excellent middle ground between cruising and freeriding, try out some 80a or 83a wheels.
Can I Use a Normal Skateboard to Cruise?
You might be able to use a normal skateboard as a cruiser, but it's not recommended. First, the wheels on your average skateboard are usually made for speed and agility, not stability. This means they're less likely to roll over curbs and other obstacles than the wheels on a cruiser board.
Secondly, the kicktails (the small tails at the back of a board) on most skateboards aren't designed for pushing or grinding against surfaces like curbs and railings. If you try to use one as a cruiser, chances are good that it will break off or get damaged quickly.
Even if you can find a skateboard with the right shape and size wheels for cruising, there's still another problem: most skateboard trucks don't have enough room under them to mount these wheels properly.
You'll need to buy new trucks specifically designed for cruisers instead of using ones from an existing board.
Are Ricta Clouds 78A Good?
Yes! The Ricta Cloud wheels are an excellent choice for cruising because they have a soft durometer (78a), making them fast and grippy while still being durable enough to last a while (especially with regular maintenance). They're also relatively cheap compared to many other brands of cruisers.
Are Wider Skateboards Better for Cruising?
Wider decks are generally better suited to cruising than narrower ones because there's more room to move your feet around. This makes them easier to balance and allows you to place your feet wider apart without fear of falling over.
However, it can be difficult to maintain an even pace over long distances if you're riding down a steep hill or a bumpy road. The wider surface area will cause the board's momentum to slow down more quickly when it hits an obstacle.
Final Words
---
This was our rundown on 10 skateboard wheels at the top of their game! Once you know the status of your commute and the tricks you're going to flaunt with your skateboard, narrowing down the perfect wheels is child's play.
That said, you no longer should have any difficulty choosing the proper wheels and reaching new heights. The thane lines you're going to leave on the tracks will sing songs of your skateboarding glory, and you'll be the new cool kid in town.
This is what the best skateboard wheels for cruising do to you. On top of that, you get to try out some awesome tricks you never thought of performing outside your dreams. So, what are you waiting for? Grab a set of wheels right away and let the skateboarding begin!