Longboarding is an astoundingly fun sport and nothing can compare with the satisfaction you get from pulling off those amazing tricks.
No matter how skilled you are, you won't be able to put on a thrilling performance without the right equipment. As such, your abilities will be greatly limited if the trucks aren't up to the task.
The best longboard trucks will ensure you get a smooth riding experience. They are the ones responsible for anchoring the wheels to the deck and making sure you get to turn flawlessly whenever you want. That's why it's crucial to choose the highest-quality trucks for your longboards.
If you're just getting into longboarding and looking for a set of trucks to get the wheels rolling, then you're at the right place. Finding the right product from an ocean of options can be quite challenging.
We want to help you out in pinpointing the most suitable option so we've tested many trucks the market has to offer. Our meticulous research has allowed us to compile a list of the best options. We've also provided a detailed buying guide for your convenience!
Our Top 10 Best Longboard Truck Choices
---
Without any further delay, let's get down to the choices right away! Here are the top 10 longboard trucks that we recommend.
01. Gullwing Sidewinder II Longboard Trucks Set
---
This one is perfect for those who want to up their longboarding game and reach newer heights! It's designed to give you immense control over your riding. You will get to turn smoothly no matter how tight the corner is! That's why it's the best one for cruising.
Sleek & Attractive Design
This model is available in multiple sizes and colors, so you can easily match it with your taste and preference. The sleeker design combined with an attractive look makes it astoundingly appealing. It will make your longboard look even cooler!
Although compatible with almost all longboards, you should use this one with "Sidewinder Series" longboards for getting the best results.
Double Kingpin Feature for Better Turning
It comes with a special "double kingpin" setup that enhances the truck's maneuverability by offering a greater turning radius than regular models. As a result, you will be able to navigate through the tightest and most challenging corners with little effort.
Considering this thing's impressive control and maneuverability, it will surely give you a taste of sidewalk surfing! Using this truck, you will be pulling off the trickiest tricks with ease!
Enhanced Stability & Speed
Additionally, this unit allows you to effectively generate more momentum through pumping so you will be enjoying faster turning. It will remain surprisingly stable no matter where you're riding or how fast you're going. Your skills will no longer be limited by the lack of good equipment.
Pros
Features a double kingpin setup for better turning
Comes with a sleek and impressive design
Available in a wide range of colors and sizes
Boasts a sturdy and stable construction
Cons
Not suitable for high-speed cruising
02. Cal 7 180mm Trucks with Wheels, Bearings, Hardware
---
A Complete Package
The Cal 7 is designed to set you up for the best adventure because it comes with everything you need to get started. From trucks, wheels, and bearings, to all the necessary hardware, it has it all! The deck is the only thing you will have to get separately.
Designed to be Lightweight & Sturdy
Durability is one of this truck's strongest fortes as it's built with a tough-grade aluminum axle that can take a whole lot of beating. Feel free to jump up and down as much as you want without worrying about causing any damage to it. You will always get a secure riding experience.
The 78A Durometer wheels are just as sturdy and they come in the right size to easily fit your longboard.
This combo set is surprisingly lightweight despite its incredible durability. If you love riding fast, it's not going to impede your performance at all.
Offers Sharper and Quicker Turns
Thanks to the 50-degree baseplate, you will be able to make the sharpest and quickest turns even when you're going as fast as the wind. You will love how easy and smooth it is to maneuver, as you will have complete control right at your disposal! For this reason, it's considered amongst the best for carving.
Boasts Premium Bearing for Faster and Smoother Spin
The strong and powerful ABEC bearings are designed to offer you much faster and smoother spins regardless of your riding style. Aided by the four spacers, these bearings are going to last a long time.
Pros
Designed to deliver a smooth and solid ride
Allows you to make the sharpest turns with ease
Comes complete with all the necessary components
Sports premium bearings for ensuring faster spins
Cons
03. Caliber Trucks Cal II 50° RKP Longboard Trucks
---
The Caliber Trucks Call II longboard truck set comes with even more power than its already powerful predecessor, the Cal I. It's 40% stronger thanks to the company's new and unique in-house treatment!
Created with durable components, this thing can take all forms of longboarding abuse. You will never have to worry about damaging it.
Enhanced Inner-Step for Increased Contact Area
Boasting an enhanced inner step, this model gives an even larger contact area. As a result, it offers a much faster response rate along with improved rebound, giving you a performance that you have never felt before!
Offers Greater Stability with Reverse Kingpins
This one features reinvented bushing seat that's designed to minimize the extra uncontrolled movement to give you better stability. The reverse kingpins make it even more stable. So, you will have fun making the toughest turns at high speeds and it will always be satisfying!
Easy & Fast Installation
Installing this truck set will feel almost effortless because it's designed to be that way. Let us assure you that it manages to live up to its expectations! Aided by the outer step, this unit will snugly fit any bushing. Furthermore, the increased pivot cup surface area makes it even easier to install.
Considering everything, it's a good one of the downhill longboard trucks.
Pros
Comes specially treated to be ultra-durable
Designed to be super-responsive and offers better rebound
Features sturdier reinforced baseplate
Capable of offering a proper clearance and consistent lean
Cons
The bushings can be quite loud
04. Longboard 180mm Trucks, 70mm Wheels, Bearings Combo
---
Durability is often the first thing to be sacrificed when it comes to making budget-friendly equipment but that's not the case with this set. In addition to offering durable trucks, it also comes with decent wheels and bearings.
For a small price, you will be getting your hands on a truck set that may as well outlast your deck!
Rolls Smoothly & Stably on the Street
The wheels and bearings work together to keep you rolling on the street without running into any trouble. It doesn't vibrate uncontrollably so it's surprisingly stable.
You will feel comfortable even when moving over rocky terrains! So, it will definitely make your longboarding enjoyable.
Designed for Streamlining Sharp Turns
Taking those sharp turns won't feel that challenging when you're longboarding with this set of trucks installed. It's equipped with a superb baseplate that allows you to turn fast without fail.
This feature is great because it also allows you to perform longboarding tricks easily.
Easy to Assemble
If you're looking to build your own longboard without spending a fortune, this is a great option. It gives you all the components required to get your longboard ready for your first ride.
Even with a little bit of knowledge about longboarding equipment and an easy-to-follow guide, you will be able to put everything together in no time. Yup, it's that simple!
Pros
Highly durable even though it's pretty cheap
Delivers an enjoyable riding experience
Makes it easier to pull off sharp turns
Incredibly easy to set up
Cons
Not meant for heavy-duty longboarding
05. Yocaher Longboard Trucks Combo Set w/ 71mm Wheels
---
The Yocaher Combo Set is another impressive model that comes complete with everything you will ever need to get into the world of longboarding. With better quality and performance, this one can easily outperform most of the products within its price range.
Allows Fine Tuning & Adjustment
If you like to adjust the trucks to make them suit your riding style, this thing will be perfect for you. This truck set allows you to tune it by simply loosening and tightening the kingpin. So, you will be able to get the performance you love as you will have complete freedom over the adjustments.
Ensures a Super-Smooth Ride
The combined performance of 90A PU bushing and reverse kingpin ensures you get the ultimate riding stability. Thanks to the sturdy wheels, you can feel free to ride over a wide range of surfaces including pebbles and stones without facing any trouble. It will ensure you get a smooth and comfortable riding experience.
Offers Enhanced Durability
Featuring aluminum cis construction, this truck is quite strong and powerful. It won't break for many years. The wheels are made with high-quality plastic, so they are just as durable. Moreover, they come with riser pads that eliminate wheel biting increasing the lifespan of the wheels.
Offering superior durability and excellent riding comfort at an affordable price; it's up there on the list of cheapest longboard trucks.
Pros
An excellent set for welcoming you into longboarding
Allows you to freely adjust the trucks
Helps you ride stably on any surface with durable wheels
Boasts durable construction for offering longer service
Cons
The wheels are kind of hard
06. Paris V2 180mm 50° Longboard Skateboard Trucks
---
The Paris V2 offers excellent build quality and superb durability. It can resist heavy wear and tear without any problem, making it perfect for hardcore longboarding enthusiasts. Thanks to Virgin Aluminum Gravity molding and secondary heat treatment, this one is one of the strongest trucks out there.
Furthermore, the axles are made of grade 8 steel making them capable of withstanding all kinds of abuse. The 90a Urethane bushings can sustain heavy pressure over long periods as well.
Designed for Incredibly Smooth Carving & Pumping
Aided by the amazing bushing seats and hanger rake, this model manages to offer one of the best carving and turning performances. You will find it astoundingly easy to make super-sharp turns or swerve fast past the tightest corner with this truck set.
Exceptionally Responsive
This unit is impressively responsive with its 50-degree high-quality baseplate and bushings. So, you will enjoy a smooth and comfortable ride as you cut through the wind with your longboard on any surface!
This truck set will make sure you get a fantastic riding experience every time!
Sports 6-hole Baseplate for Universal Mounting
You will find the Paris V2 to be one of the most versatile trucks as it's highly likely to match your deck. It comes with a 6-hole baseplate which makes it suitable for both old and new deck models.
Furthermore, the 180mm hanger is perfect for all sorts of riding styles. This is the go-to solution if you aren't sure about which size to go for!
Pros
Comes with a high-quality build and durability
Supports super-smooth and fast turns
Designed to be compatible with most longboard decks
Very responsive with a high rebound for offering smooth rides
Cons
Produces squeaky noises during turning
07. NPET Longboard Bearings, Wheels 52mm, Trucks
---
This is a combo set complete with all the components you need to build your own longboard as long as you have the right deck. Aside from the most important trucks and wheels, you also get high-quality bearings and grip tape.
So, you won't have to purchase any component separately as it sets you up with everything.
Comes with Strong Components
Each item in this set ranging from the trucks and wheels to the bearings is created with top-grade materials. This isn't commonly seen in affordably priced products.
It is guaranteed to sustain under heavy abuse so you can easily perform any trick with it without inflicting any damage.
Allows Comfortable Riding
The 99A wheels are excellent for gripping the surface and rolling smoothly on rocky terrains. So, you will get to ride comfortably on a wide range of terrains.
The ABEC-11 bearings spin fluidly enough to keep the longboard moving without getting stuck.
Offers Decent Maneuverability
Fitted with high-quality bushings, a decent baseplate, and bearings; this set will give you fantastic maneuverability. Those tight corners won't be giving you trouble anymore!
You will have great control and you will find it easier to pull off any longboarding tricks with this one.
Pros
An All-In-One combo set offered at a highly affordable price
Integrated with top-grade components that are pretty durable
Makes riding impressively comfortable
Gives you full control so you can show off various longboarding tricks
Cons
08. BEAR Grizzly 852 52° 181mm Gen 5 Longboard Trucks
---
What makes the Bear Grizzly stand out is its unique hanger design. It's not there just for the show; it gives you total control over the turning radius as you can freely adjust it at will. So, this one is guaranteed to complement your riding style. It's pretty easy to do the adjustments too!
Tighter Bushings for Enhanced Stability & Comfort
Featuring tighter bushings, this model reduces excessive movement to make your rides more stable and comfortable. Even when you're riding fast, you won't be feeling any irritation or pain.
Moreover, you will face reduced friction during sliding aided by its broader base making it one of the best trucks for sliding!
Boasts Specialized Casting Formula for Durability
Thanks to the specialized casting formula created with premium aluminum alloy, the 5th Gen Bear Grizzly is remarkably durable.
What's more, it's designed to prevent baseplate warping as it comes with thicker and wider baseplate legs. It won't show you any sign of wearing it for many years.
Features 8-hole Mounting System for Versatility
The 8-hole design of the baseplate makes it perfectly compatible with new and old patterns of drilling. So, it's ready to be installed on most of the modern longboard decks.
You won't be able to mount this truck set up on a traditional longboard.
Pros
Comes with specialized casting formula that makes it extra-durable
Allows you to freely adjust the turning radius
Designed to fit most the modern longboard decks
Sports bushing seat that's much less restrictive
Cons
The bushings come with some issues
09. Caliber Trucks Cal II 44° RKP Longboard Trucks
---
The Caliber Trucks Cal II 44-Degree longboard truck set is perfect for longboard enthusiasts who love riding as fast as the wind. Equipped with a hanger with a 44-degree angle, this model allows you to push through and break your speed barrier!
You will be generating speed faster and get to cut through the wind with ease!
Optimized Stability & Comfort
This unit offers generous stability and comfort as it comes fitted with redesigned bushing seat that does an excellent job of reducing any excessive movement. So, no matter how fast you're riding, you won't have any trouble staying on the deck and be in total control.
Besides, this one is pretty responsive so your riding will be quite smooth. It also offers a high rebound for your convenience.
Strong & More Durable Structure
Strength and durability are this model's strongest characteristics. It features the manufacturer's advanced in-house treatment that makes it extra-strong, about 40% more than the previous models.
So, you can rest easy knowing that this truck set is ready to withstand all sorts of longboarding abuse with ease.
Balanced Weight for Easier Turning
It's quite lightweight so there won't be any extra weight pulling you down. You can count on it for winning downhill races. The turnings will feel astoundingly smooth as well.
Overall, we can consider it to be the best one for speed.
Pros
Perfect for insanely fast riding
Offers a lot of durabilities while remaining lightweight
Equipped with no-slip bushing seat for offering stability
Designed to make turning smooth and easy
Cons
The bushings make a lot of noise
10. VJ Longboard/Skateboard Truck Set, Kingpin for Downhill
---
The VJ Longboard/Skateboard Truck Set is another top-notch set of trucks that are guaranteed to deliver an amazing longboarding experience. Built with virgin-grade aluminum, there is no question about its durability. It will keep your longboard functioning for a long time!
Furthermore, this model is fitted with a lightweight but reliable hanger. Unlike most products, it won't force a lot of weight on your deck!
Allows Smooth Cruising on Different Surfaces
Sporting 92A bushing, this thing offers excellent stability by eliminating extra movement. Additionally, the premium-quality bearings make sure you get to roll over tough terrains filled with stones and pebbles with surprising stability and comfort.
Designed to be Easier to Maneuver
The 50-degree baseplate will make the sharpest turns feel like a piece of cake. You won't feel any resistance while making a corner and it will feel incredibly smooth.
This unit will make sure you're always in control and get to maneuver just as you want to.
Compatible with Most Longboards
This truck set is designed to be highly compatible. It will fit longboards that are 9'' to 10'' wide and wheels that are 70-86mm in size.
So, you won't have any trouble installing this one on most modern longboard decks. You will find it easy to install as well.
Pros
Durable enough to withstand excessive pressure
Makes it surprisingly easy to maneuver
Fitted with top-grade bearings and other components
Offers a lot of stability for riding comfort
Cons
May not suit experienced riders
How Do I Choose A Perfect Truck For My Longboard?
---
There is huge competition in the market for longboard trucks so you shouldn't be surprised to see so many options to choose from. The difficult part is finding the right product out of a mountain of truck models.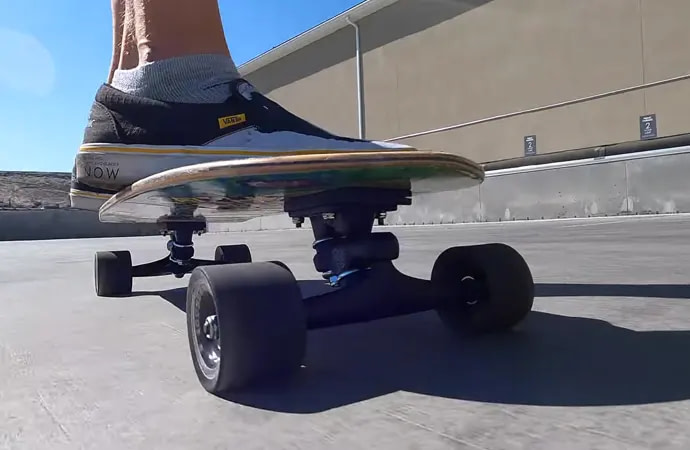 We know exactly what to look for in a longboard truck to help you identify the best picks and we're about to tell you so stick with us!
I. Price
It's good to have a budget before buying a longboard truck because it will narrow down the list significantly. So, think about how much you're willing to invest before going out to the market. You should remember that a higher price doesn't always mean higher quality so you shouldn't blindly purchase the most expensive product.
If you look hard enough, you can get your hands on a much cheaper product that offers greater value!
II. Truck Size
If you want maximum output from your truck, then you must check the size of the truck. It must match the size of your preferred deck. For instance, a deck that's about 8-inches to 9 inches in size will only work with a truck that's 139mm to 169mm.
So, you should measure your deck, and get a truck that's likely to be a perfect fit.
III. Axle
The part of a longboard truck that attaches to the wheels is called an axle. The width of the axle must be closer to the width of the best longboard deck. Larger axles usually mean better stability but they aren't easier to turn with. On the other hand, smaller axles are more responsive at the cost of stability.
IV. Hanger
You can easily tell which is the hanger on your longboard truck because of its distinct T-shaped design. It's the aluminum alloy beam that's responsible for forming a connection between the wheels and the truck.
Your riding comfort largely depends on the quality of the hanger. If it's not good enough, you're going to have a hard time riding smoothly. So, make sure to get a good quality hanger. Oh, and it must be compatible with the deck.
V. Kingpin
The kingpin is, well, just as the name suggests, the king of all pins! In other words, it's the pin that's responsible for holding all the components together. There are mainly two types of kingpins.
Standard kingpins are designed to face the board's center. They are perfect for performing longboarding tricks because their bolts won't run into the grinds on rails.
Reverse kingpins are more popular as they're far more responsive no matter how fast or slow you're going. They also offer better smooth control and maneuverability. If you prefer comfortable cruising, this is the type to go for. You can easily recognize reverse kingpins as they always face toward the front of the board.
VI. Baseplate
The baseplate is a type of flat metal piece that's attached to the board using multiple screws. It connects the longboard truck to the deck of the board. You will find 6 to 8 mounting holes in most baseplates.
Now, every baseplate sits at an angle and the angle determines whether the truck is better for turning or cruising.
Baseplates are commonly available in 44 to 50-degree angles. The wider angles are good for comfortable riding as they are easier to turn. If you prefer high-speed riding, you should go for narrower angles. However, you shouldn't go below 30-angles.
VII. Bushings
Bushings are simply the rings placed around the kingpin that is designed to affect the responsiveness of the board. They come with different hardness.
The harder bushings are great for cruising while the softer bushings offer faster response, making them perfect for performing tricks.
VIII. Risers
While risers aren't always needed, they can be useful if you're having to deal with wheel bites. High-quality risers can prevent wheel biting from causing any damage to your deck. If you place riser pads between the deck and the truck, they will make sure the wheels don't touch the deck while rolling.
Go for this feature if you want to enhance the overall durability of a fully prepared longboard.
Why Do I Need A Best Longboard Truck?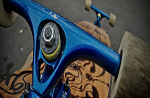 Much like the wheels of a car, a longboard also needs axles to roll. Otherwise, it's nothing better than a simple board that won't be moved no matter how much you push! So, if you want to get rolling, a set of trucks is a must. It's easily the most important part of the structure of a longboard.
How do I recognize a longboard truck?
You can easily recognize a longboard truck. It's the metal T-shaped object placed right underneath the deck. Every longboard needs two pieces of trucks to be functional. They are replaceable but high-quality ones are capable of outlasting your decks!
What are the features of a perfect longboard truck?
The best longboard trucks usually come with a quality hanger, an axle, a baseplate, and a couple of bushings. Just like the main axle of a car, these things connect the wheels together and attach them to your longboard. The components of the trucks determine how smooth your rides will be and how swiftly you will be able to turn.
What is the benefit of using a longboard truck?
So, if you install the right set of trucks, you will be able to cruise on your longboard with incredible comfort. A good set of trucks will ensure that you're in complete control of your ride and can turn whenever you want. 
Final Verdict
---
If you're still unable to land on a decision, allow us to make a few suggestions. The Gullwing Sidewinder II can be the perfect choice for you if you've got the budget. It's a premium product that comes with all the top-grade features you'd expect from a truck set.
However, if you're a beginner or someone who doesn't have any time to spend looking for separate longboard components, then go for the Cal 7 180mm Trucks. It comes with high-quality wheels, bearings, and all the necessary hardware needed for mounting the truck to the deck.
We tried to be as comprehensive as possible while preparing our choices. Our buying guide covered everything you need to know in order to easily identify the best longboard trucks. It's vital to choose the right one because otherwise, you're going to have a poor longboarding experience.
So, go ahead and pick any of the products we've listed and described to enjoy longboarding!