When it comes to longboarding, there's plenty of footwork in action. You also need to practice at a skate plaza and work your way through the challenging ramps. A quality deck can give your urban cruising a new name and show a fellow skateboarder who's in charge here!
The best longboard decks aren't necessarily the ones with 6-ply bamboo or maple. While the material is obviously important, you can't deny the roles of a brilliant wheelset and design. It's up to you if you want a roomy base with a kicktail or a balanced concave deck.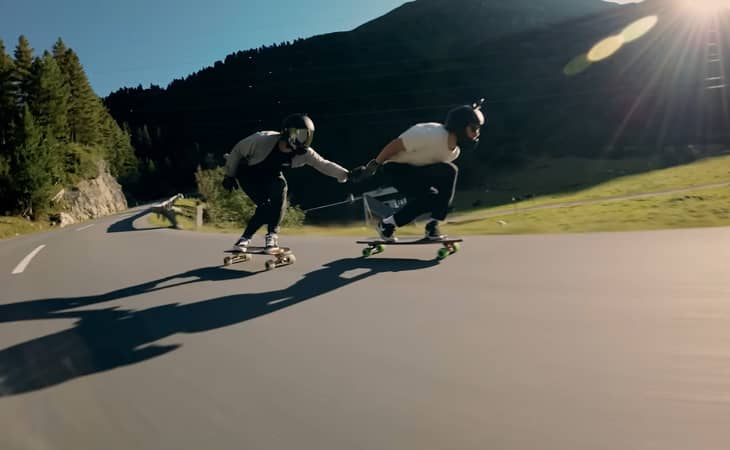 Keeping retro and present-day longboarding styles in mind, we have rounded up ten awesome longboard decks just for you!
Our Top 10 Best Longboard Decks
---
Be it cruising, down-hilling, free-riding, or a little bit of everything, we believe there's a right longboard for every occasion! Head on to our details, where we cover a few of the coolest, most functional, and most reliable longboards in 2021!
01. Bamboo Blank Skateboard Deck
---
Good for Commuting
The reason why we think this is one of the ideal blank decks is that it has good flex and stability. Its unique shape and feel allow you to slide, drift and turn with style.
Besides, this bamboo deck just happens to have the perfect shape for acing most longboard tricks- both new and old!
Lightweight Yet Sturdy
Between a 6-ply maple and a 6-ply bamboo, the latter is hands down the better one in terms of flexibility and lightness. There are high chances that you've got your feet wet riding a maple longboard.
After all, it's not only the most common type of deck but also very enduring. But the best thing about maple longboard decks is that they're fast and easy to carry.
Deep Concave Deck
The shape of this longboard deck is one of the reasons why we find Bamboo Skateboards so reliable. What's a good longboard deck without a killer curve, right?
It's not as progressive as some maple decks, but it sure makes the cut for day-to-day commuting. We can only wish we landed a top-notch bamboo deck like this in our early days of longboarding!
Eco-friendly & Durable
You'll be happy to know that these bamboo decks are made of high-quality, sustainable bamboo.
The deck is not going to snap under your feet or show stress cracks. For a mid-range longboard deck, it's quite durable on the streets. We were even surprised to see the product lasting for more than a couple of months.
Pros
Available in 12-inch to 15-inch wheelbase sizes for different riders
Its concave shape is ideal for axle stalls and fakies
Grippy foothold with a lot of control
An eco-friendly choice for saving trees
Cons
Not suitable for skating on big ramps
06. Playshion Drop Through Freestyle Longboard
---
Soft PU Wheels
The Playshion drop-through longboard is just as popular for its large, soft wheels as it is for the deck. For starters, the 51mm-wide wheels give you more stability on the road.
Additionally, the 70mm diameter wheels are rated 78A for hardness. It's amazing if you consider the fact that the Playshion, after all, is a reasonably-priced starter board.
Easy to Carve
This is a versatile longboard that cruises on the streets and carves at the parks. We are in love with its quality trucks, to begin with. If you're in the mood for long-distance cruising, the tight trucks will benefit you in more ways than one. However, loose trucks make it much easier to do longboarding tricks.
Moving on, the Playshion cruiser comes with pre-oiled ABEC 9 bearings. They are much more robust compared to the standard ABEC 7 bearings and are mostly found on the best choices for sliding.
Finally, the nylon ball cages will help reduce friction at high speeds.
Low Ground Clearance
When you're landing from a BS shuvit, you'd want the deck to be as low to the ground as possible. Especially in your beginner days, stability matters so much because your reflexes are not going to be spot-on every time.
It's one of the reasons why drop-through longboards make excellent beginner boards.
Generous Weight Limit
The Playshion is symmetrical, but it's not a flat deck. In fact, there's a concave on the wheelbase so that you can find your footing. The deck, as a whole, can carry 250 pounds of weight.
So, if you're on the heavier side, you shouldn't have any problem free-riding on the Playshion Cruiser. Its 8-ply maple hardwood deck can bear a good lot of weight. On a scale of one to ten, we are giving its flex a solid 7.
Pros
39-inch 8-ply maple deck
ABEC-9 bearings for smooth skating
The nylon ball cages reduce friction and vibration
Generous 259-pound load capacity
Cons
The wheels wear down faster
Factors to Consider When You Purchase A Perfect Longboard Deck
---
Before you buy a longboard deck, you need to make sure that it's in line with your riding style and intentions. Do you want a neutral deck or a progressive deck, a camber, or a rocker?
We get it, the options are plenty, and it can get overwhelming shuffling through different types of longboard decks. Hopefully, our guide below will help you realize which deck ticks all the boxes for you!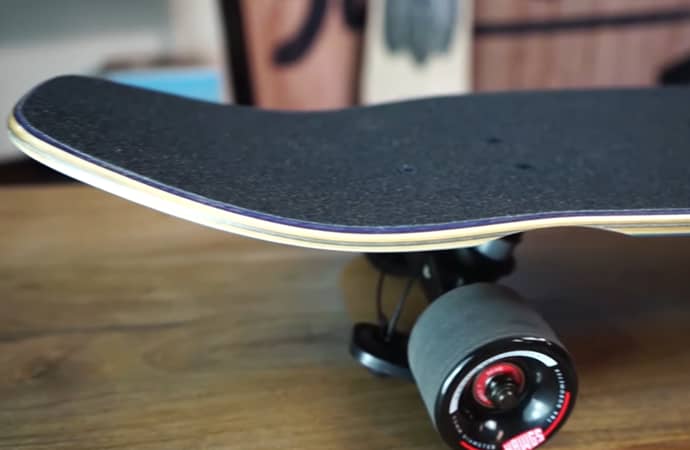 1. Longboard Types
Depending on what you like in a longboard deck (stiffness or flexibility, speed or tricks), we have carefully tailored the following criteria. They will help you narrow down your choices. Keep reading!
Between maple and bamboo, the latter is more flexible and lightweight. Now, bamboo decks allow you to do easy kickflips, fakies, and literally every other longboard trick with ease.
The fact that they require only a little push from your end makes full bamboo decks the speedier one of the two. However, maple is by far the strongest deck material.
Maple longboard decks are stiff and much more reliable. They are incomparable when it comes to downhill riding on rugged terrains or skidded stair sets.
2. Longboard Design:
The deck design is an important factor to consider as well.
For starters, pintail longboards look a lot like surfboards. They're suitable for cruising at good speeds and carving. However, most pintails struggle above the 25mph ceiling.
Drop-throughs have a comparatively sharper nose and tail. It's because the trucks are directly punched into the deck- creating a low center of gravity for the rider.
This is the reason why drop-throughs feel more grippy and ride at faster speeds.
3. Longboard Speed
If you've shuffled through longboard decks for long enough, you have surely heard about "camber concave" decks. These decks have more flex, and a higher center of gravity, and are mostly found on cruiser longboards.
A camber-style deck with kicks is a smart combination for everyday commuting.
However, you might prefer a more locked-in feel when it comes to riding downhill. If that's the case, a slightly dropped wheelbase will help you find a more comfortable stance.
These types of decks are called rocker decks. Not to mention, the flex is much lower here. But a rocker-style deck is a responsive one, and it offers higher speeds for cruising and carving.
4. Longboard Level
You need to decide what level of flex you like on longboards and their concavities.
To begin with, W-concave is a popular style of longboard deck. It features an upward-sloping nose and tail with a curvy centerline.
These boards are extremely responsive, and they turn tight corners with impressive control. The concave shape of your longboard deck has a lot to do with your grip and performance at the park.
If you ask us, we found W-concave decks to have an awesome layout. From a scientific point of view, the deep concave design allows you to have a comfortable foothold.
Longboards with a mellow kicktail have a slightly raised tail. Alternatively, you might like a deck with kicks on both ends.
It would be a more progressive version of your average radial concave deck. A kicktail helps you ollie, slide and pivot more comfortably.
5. Longboard Length
A longer-than-usual longboard deck will give you sufficient footing and more speed on level terrains. But it might be problematic when it comes to making tight turns.
Longboards with shorter wheelbases are easier to push. But they can't beat a longer board when it comes to carving and speeding up!
If you ask us, a 40-44″ longboard deck is perfect for everyday cruising. On the other hand, you'll get the best downhill experience on a 36-40″ deck. Lastly, we recommend a 38-42″ drop-through deck for free-riding.
6. Longboard Capacity
Bamboo longboards have less weight capacity, but it's nothing serious considering all longboard decks come in multi-ply construction anyway. Maple or carbon-fiber decks are stiff and sturdy. Not to mention, maple makes great beginner boards.
You can find the most reliable longboard stance on a 7-ply maple hardwood deck. A blend of both, however, gives you a lightweight yet sturdy deck that we like.
Like the Quest Rorshack, ZED Retrospec is a phenomenal blend of maple and bamboo. But if you want us to pick one, we're siding with ZEDs for their flexibility and maneuverability.
Wrapping Words
---
It's no news that longboard decks come in all shapes and sizes. Even the truck-mounting positions vary from cruisers to downhills. When it comes to cruising off-curbs and sidewalks, it's a tough choice between the ZED Retrospec and the Quest Super Cruiser. The Retrospec features a 41-inch deck with good looks and reduced wheel bite.
On the other hand, the Super Cruiser sports a solid deck made of maple and bamboo. This 44-inch longboard pulls off cruising city streets and freestyling with some downhill action. It doesn't have milled wheel wells, but there's ample ground clearance that keeps you stable in your stance for a phenomenal ghost ride.
So, ZED Retrospec and Super Cruiser are the two best longboard decks for today. However, if you're looking for a drop-through longboard in the classic concave design, RIMABLE is the way to go. It's a 9-ply full maple free-rider with a grippy, low-riding deck.
A lightweight, faster, and more durable alternative is the Playshion freestyle longboard. It sports the highest quality ABEC 9 bearings with solid aluminum trucks. If there's a longboard that handles rigorous stair-skating and downhill riding, it's hands down Playshion.